---
Ergonomics is important in the kitchen. The closer the utensils are, the shorter the distance. So it is not surprising that the storage spaces seem to be getting closer to the work area. Usually in the form of shelf-like storage spaces that are no further than an arm's length away.
Sometimes mounted on the ceiling, sometimes recessed or sitting on the worktop. Sometimes with lighting, sometimes without. Sometimes staged as a prominent centre of the kitchen island, sometimes as a link between the base and wall cabinets. Or as a solitaire in its very own form. Shelves and open storage spaces are very popular.
Crossing kitchen islands with a kind of functional bridge is not new - but now can be found amongst almost all manufacturers.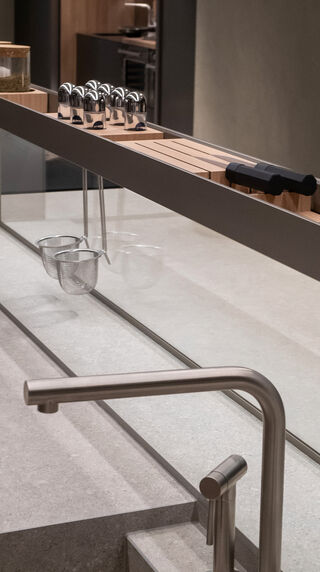 ---
---
---
---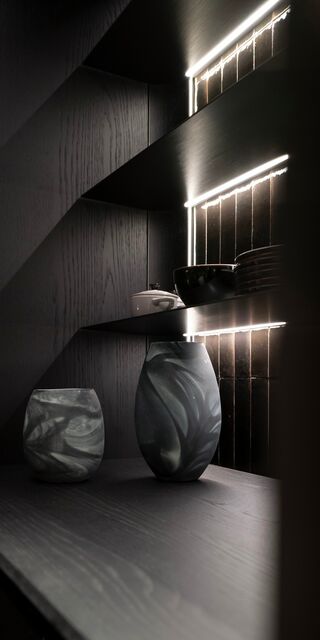 In the modern home, the contents of the cabinets play a new role - they are more visible and thus influence the room design. Glasses, bowls and dishes on an open shelf are not only readily available at all times, but in fact they become part of the furniture design.
Even if the cleaning of such open spaces is quite demanding - the visibility of your own belongings makes modern kitchens not only more comfortable but also makes each kitchen unique. "In fact, this is the most beautiful form of customisation," says Harald Klüh, "if you can own and design furniture with your own contents."
---
---
Perfectly positioned in the airspace above the worktop, the rack suspended from the ceiling provides direct access to the most used utensils - without limiting freedom of movement.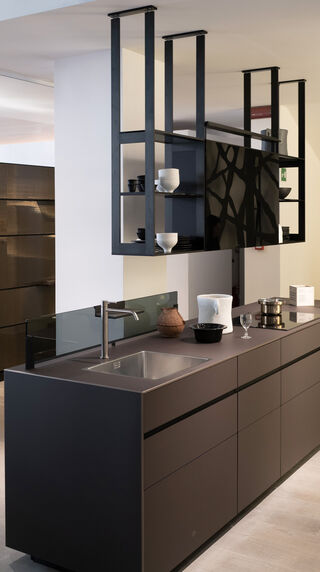 Milan Design Week 2022

Trend Monitor.